Nalgene Labware at Capitol Scientific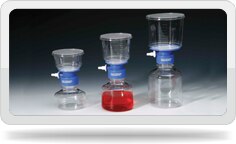 Nalgene labware stands apart from the rest thanks to its superior viability and reliability. Capitol Scientific offers a comprehensive selection of Nalgene products, including Nalgene lab bottles and Nalgene centrifuge tubes.
Nalgene lab bottles are available in a variety of sizes and shapes for a multitude of purposes such as with centrifuges, for diagnostic, dilution, dispensing, environmental sampling, packaging and much more.
Their plastic tubes are safer to use than traditional glass, and the Nalgene centrifuge tubes don't sacrifice any of the efficiency or chemical resistivity of glass centrifuge tubes.
Opt for Nalgene labware over easily broken glass labware from other brands, because of its durability and reliability. Plus, when you purchase your Nalgene tubes and lab bottles from Capitol Scientific you receive the support of our product experts should you have any questions.