Lab Balances at Capitol Scientific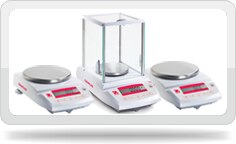 Balances are used in lab settings as a way to measure weight and mass of objects. Labs have relied on balances for precise measurement for quite some time- in fact, balances were one of the first tools ever invented to measure mass.
Capitol Scientific offers a wide array of lab balances for scientific, industrial, research, and other lab applications. Our selection of lab balances includes analytical balances, mechanical balances, portable balances, digital balances, triple beam balances, and moisture balances. We stock the industry's most respected brands, including Ohaus, which offers exceptional precision and accuracy as well as affordability. Explore our lab balances today!