Lab Chemicals at Capitol Scientific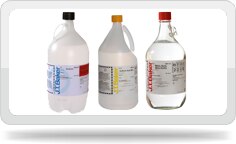 Find a wide range of laboratory chemicals and chemical lab equipment at Capitol Scientific for scientific, industrial, and research applications. Our expansive selection of lab chemicals includes acids, desiccant and drying agents, electronic and semiconductor grade chemicals, organic and inorganic reagent chemicals, ionic liquids, solvents, polymers, and specialty chemicals such as heat transfer fluids, lubricants, and vacuum grease.
We make it easy to buy laboratory chemicals online and if you have any questions, our product experts are always available to help. Plus, with our customer loyalty discount program, you can save on every order. Trust Capitol Scientific to be your laboratory chemical supplier.