Ohaus Balances at Capitol Scientific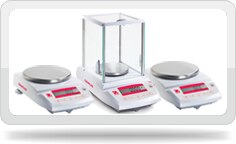 CapitolScientific offers large selection of top-quality Ohaus Balances. Ohaus is a top laboratory balance manufacturer that produces a wide range of laboratory balances.
Ohaus balances are top of the line and recognized as one of the industry's best manufacturers of laboratory balances including analytical balances, mechanical balances, portable balances, electronic balances, triple beam balances, and moisture balances. Capitol Scientific offers a wide array of Ohaus balances for all laboratory, industrial, research, and scientific applications. Check out our large selection of Ohaus balances today!